COVID-19 Update: 116 new cases identified in Jamaica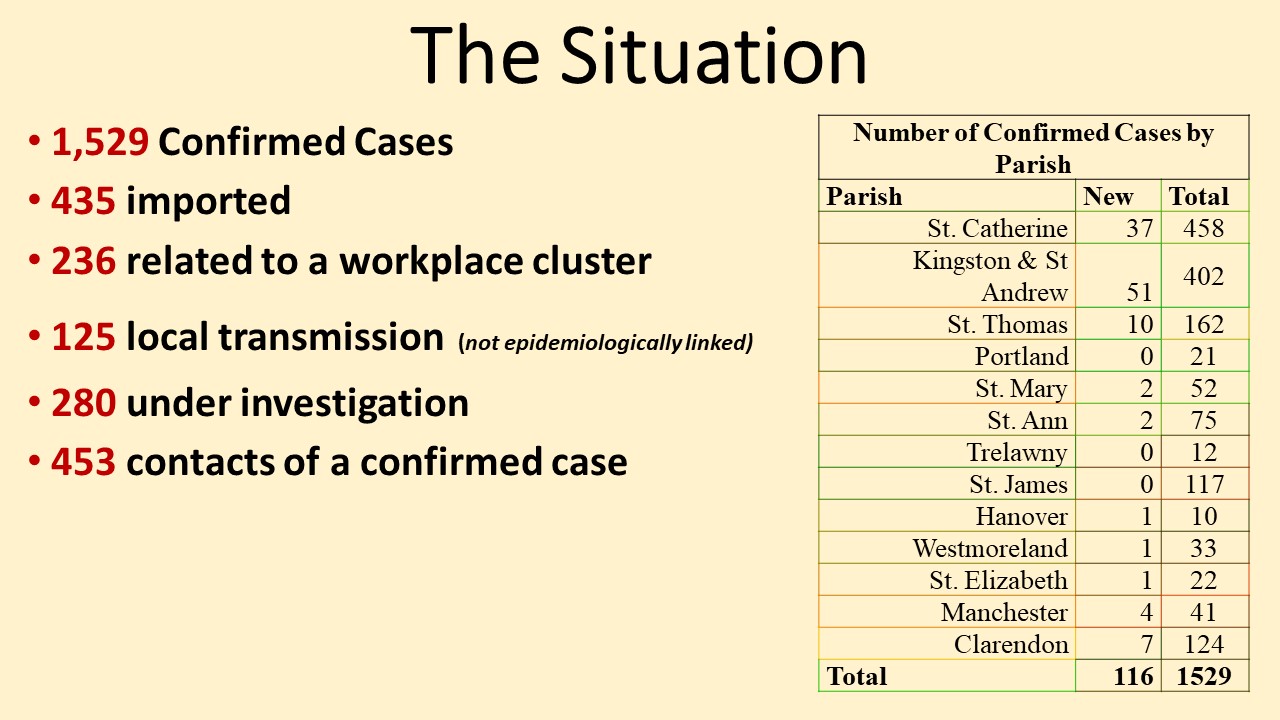 In the last 24 hours, 116 new COVID-19 cases have been identified in Jamaica. The total number of confirmed COVID-19 cases for the island is now 1,529. Additionally, two more patients have recovered and have been released from care, bringing the total recoveries to 819. (54.2% recovery rate),
Of the 116 newly confirmed cases, there were 48 males and 68 females, with ages ranging from 17 years to 85 years. The cases were recorded in Kingston and St. Andrew (51), St. Thomas (10), St. Catherine (37), Clarendon (7), St. Elizabeth (1), Hanover (1), St. Ann (2), St Mary (2), Manchester (4), Westmoreland (1).
Five of one hundred and sixteen new cases are contacts of confirmed cases; one was imported from the United Kingdom; and 110 cases are under investigation.
Jamaica now has 622 (40.7%) active cases being monitored, with four critically ill and four are moderately ill at this time. 71 cases (4.6%) have returned to their countries of origin.
At this time there are 435 imported cases; 453 cases are contacts of confirmed cases, 236 cases are related to the workplace cluster in St. Catherine, 125 are local transmissions (not epidemiologically linked), and 280 cases are under investigation.
Some 834 (55%), of the confirmed cases are females and there are 695 (45%) males; while the ages of all confirmed cases range from 2 months to 89 years.
Clinical Management Summary as at 8:00 p.m. on Sunday, August 23, 2020
| | |
| --- | --- |
| Total Samples Tested | 53,390 |
| New Samples tested in the last 24 hours | 888 |
| Discharge samples tested in the last 24 hours | 9 |
| Results Positive | 1,529 |
| Results Negative | 51,751 |
| Results Pending | 110 |
| Deceased | 16 |
| Recovered | 819 |
| Number in Facility Quarantine | 15 |
| Number in Home Quarantine | 29,640 |
| Number Hospitalised | 45 |
| Persons in Facility Isolation | 58 |
| Persons in Home Isolation | 514 |
| Persons in Step Down Facilities (Isolation) | 6 |
| Persons Moderately Ill | 4 |
| Persons Critically Ill | 4 |