Welcome to the
Physical Activity Page!
Reduce Depression and Anxiety
Physical activity is critical to the prevention and management of Chronic Non-Communicable Disease, therefore healthcare providers must play a critical role that this is integrated in the care of their clients. The Health Promotion and Education Unit (HPE) within the Health Promotion and Protection of the Ministry of Health had done assessments and recognized the need to build the capacity in physical activity among Health Promotion and Education Team across the four Regional Health Authorities. This will aid in strengthening and expanding existing programmes and interventions that promote physical activity as well as develop new ones.
Health Benefits of Physical Activity
Strengthens heart and lungs
Lowers the risk of heart disease, high blood pressure and diabetes
Increases the good cholesterol in the blood
Burns fat and helps to maintain a healthy weight
Strengthens bones/reduces osteoporosis
Builds stronger bones and muscles
Increases energy
Improves posture and balance
Increases strength and flexibility
Reduces depression and anxiety
Improves concentration
Reduces stress
Increases academic performance
Contributes to healthy and glowing skin
Physical Activity Recommendation
3-5 years – at least 60 minutes of structured activities and several hours of free play daily
6-17 years – at least 60 minutes of moderate to vigorous physical activity at least 5 days per week. They should do a combination of muscle-strengthening and bone-strengthening activities at least 3 days per week as a part of the 60 minutes.
Examples of muscle-strengthening activities: Squats, push-ups, sit-ups, lunges, weight lifting, climbing stairs, carrying the groceries and bike riding, monkey bar climbing.
Examples of bone-strengthening activities: Jumping, skipping running, walking, hop-scotch and dancing.
At least 30 minutes 5 days per week or an accumulation of 150 minutes at least 5 days per week to gain some health benefits.
At least 60 minutes 5 days per week or an accumulation of 300 minutes at least 5 days per week, if you want to lose weight.
At least 60-90 minutes or an accumulation of 300-450 minutes.
There are a number of ways you can accumulate the recommended amount of physical activity each day/week. For example, a 60-minutes physical activity session can be done in six (6) 10-minutes bouts throughout the day. In order for this to be effective, each 10-minutes bout must be done continuously each time. Choose a method that best fits into your daily routine that you can achieve.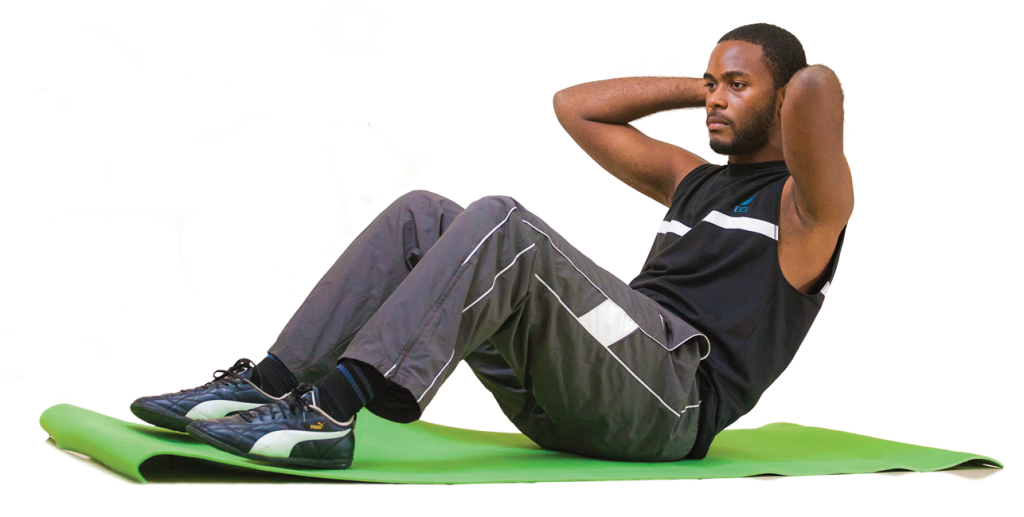 for Adults 65 years and older
Should do at least 30 minutes of moderate-intensity aerobic activity 5 days per week or do at least 25 minutes of vigorous-intensity aerobic physical activity at least three days per week.
Aerobic activity should be performed in bouts of at least 10-minutes duration.
For additional health benefits, activity should be done at moderate intensity at 60 minutes, five days per week or engage in 30 minutes of vigorous-intensity aerobic physical activity 5 days per week. This can be a combination of moderate- and vigorous-intensity activity.
If you have a medical condition or have poor mobility, perform physical activity that you can do based on your abilities. Do activities that will improve balance and prevent falls at least 3 days per week.
Make sure you get approval from your doctor before starting an exercise program. Your doctor will determine the level at which you should start exercising. Discuss with your doctor what types of exercise might be appropriate for you. For example, complications of diabetes such as severe eye disease and nerve damage may make some forms of exercise dangerous. Your doctor may also schedule a test to see how your heart responds to exercise.
Movement in the Workplace
Move for Your Health - Episode 1
Move for Your Health - Episode 2
Jamaica Moves - 30 Minutes a Day
7 Additional Benefits of Physical Activity
These materials are meant for the public use. Permission is not required for use as all Ministry of Health services are free to the public. However, Ministry of Health ask that you credit the information is used or publicly displayed.
The information can be adopted and revised as long as the information free of cost. However Ministry of Health Name and logos must be removed if changes are made.