COVID-19 Update: Jamaica now at 864 Confirmed Cases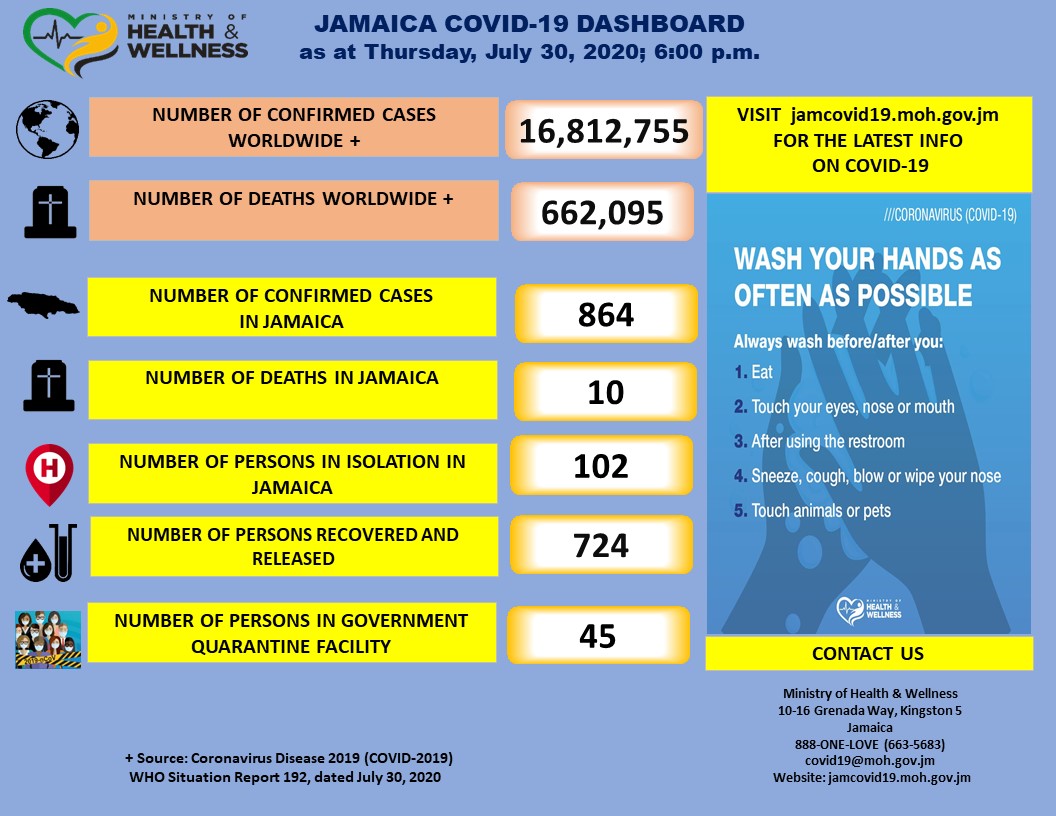 Jamaica recorded eight new confirmed COVID-19 cases in the last 24 hours. The total number of confirmed COVID-19 cases for Jamaica now stands at 864.
The newly confirmed cases are six females and two males with ages ranging from 26 years to 77 years. The cases were recorded in St. Catherine (4), Kingston & St. Andrew (3), and Clarendon (1).
Three cases are imported, having arrived recently on flights from the USA. The other five cases are under investigation.
There are 84 (9.7%) active cases currently under observation with one moderately ill patient. There are no critically ill cases at this time.
At this time there are three hundred and twenty-four (324) imported cases; 246 cases are contacts of confirmed cases; 44 are local transmission cases not epidemiologically-linked, 236 are related to the workplace cluster in St. Catherine and 14 under investigation.
Some 491 (57%) of the confirmed cases are females and there are 373(43%) males; while the ages of all confirmed cases range from 2 months to 87 years.
Of the 864 cases confirmed with COVID-19 to date: 724 (83.8%) have recovered; 46 (5.3%) were repatriated and 10 (1.2%) persons have died.
Clinical Management Summary as at 5:30 p.m. on Thursday, July 30, 2020
Total Samples Tested
38,106
New Samples tested in the last 24 hours
579
Discharge samples tested in the last 24 hours
10
Results Positive
864
Results Negative
37,176
Results Pending
66
Deceased
10
Recovered
724
Number in Facility Quarantine
45
Number in Home Quarantine
20,739
Number Hospitalised

(Including suspected positive COVID-19 cases)

21
Persons in Facility Isolation
0
Persons in Home Isolation
79
Persons in Step Down Facilities (Isolation)
2
Persons Moderately Ill
1
Persons Critically Ill
0