Vitals – A Quarterly Report of the Ministry of Health (May 2018)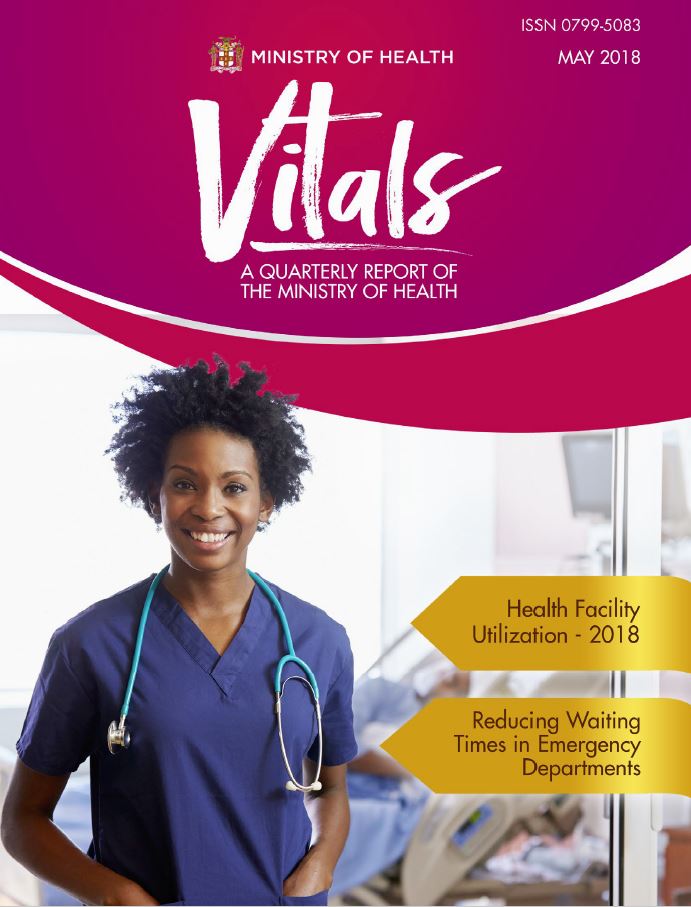 This third edition of Vitals represents the one-year anniversary of the Ministry's quarterly report. The feedback received has been favourable, and the analysis useful in raising awareness of the challenges and achievements of the health sector.
This publication features waiting time reduction in emergency departments. There was a notable 10% increase in visits to Health Centres and 7% decrease in visits to the Accident and Emergency
(A&E)/Casualty Departments in 2017 when compared to 2016, resulting from the "Reducing Waiting Time in Emergency Department Initiative" which was implemented in seven hospitals across the island. This initiative was intended to promote the appropriate use of A&E departments for emergency cases, and a commensurate shift of non-emergency cases to Health Centres.
The effects of trauma on the health sector continues to be of concern. In 2017, Accident and Emergency (A&E)/Casualty Departments treated 64,349 cases of injuries of which 19,348 were
intentional injuries, hence preventable. A closer look reveals that, on average, 6 patients suffering from stab wounds, 4 with gunshot wounds and 3 from sexual assaults are attended to on a daily basis. The statistics indicate the need for inter-sectoral strategies to prevent these injuries.
2017 represents a landmark year for the Measles, Mumps and Rubella (MMR) programme, when for the first time since its introduction to the immunization schedule in 2003, MMR2 vaccination coverage reached the 95% target. Commendations to the public health team for meeting this target for the second MMR vaccination of children 12 to 23 months! We encourage the public health staff to find innovative ways to work with our parents, teachers and the community to address the decrease in coverage for other vaccines that was observed for the 2017 period. On this 1st Anniversary, I congratulate the Vitals' team for providing a statistical report of such high standards that supports evidence based planning and monitoring of the public health care services.