Destroy Mosquito Breeding Sites in Light of Increased Rainfall and Start of Hurricane Season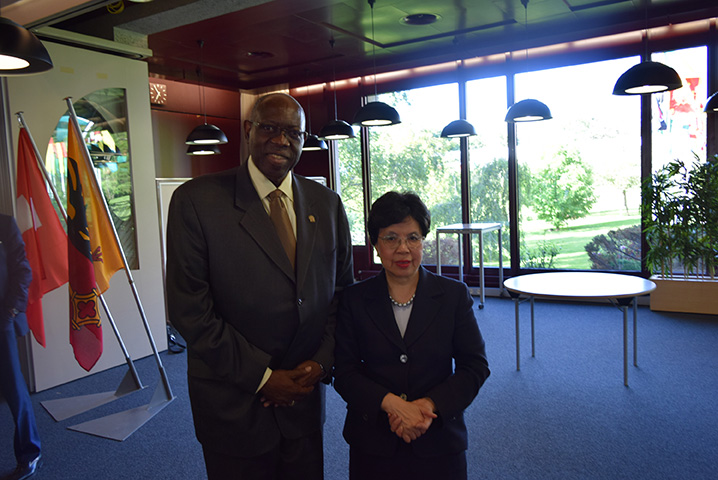 Listen Audio Clip
Minister of Health, Dr. Fenton Ferguson is urging Jamaicans to rid their homes of anything that can collect water and become breeding sites for mosquitoes.
"On Monday we will officially mark the start of the hurricane season but already we have been getting increased rainfall. This means that the environment is being created for mosquitoes to breed – particularly the Aedes aegypti which spreads dengue, chikungunya and Zika viruses," he said.
Dr. Ferguson explained that a combination of factors including urbanization, population growth, an increase in global travel and trade and climate change has led to an increase in susceptibility of countries in the Caribbean including Jamaica for disease outbreaks – among them some never before experienced in this Region.
"If or when the Zika virus gets to the Region that too would be a new disease for us. The prevalence of vector borne diseases have been particularly on the rise with estimates indicating that the number of cases of dengue for example has increased 30 fold over the last 50 years or so. This is worrying because some of the diseases that now threaten the health of the Region including Jamaica are those which are transmitted in the same way as dengue," he said.
He added that "in our discussions at the recent World Health Assembly, it was made clear that the Region should prepare for the introduction of a new disease and/or a disease outbreak every two years or so. We therefore cannot let down our guard. This year we face the threat of zika virus; we do not yet know what the next two years will bring but we have to prepare nonetheless."
Householders can destroy mosquito breeding sites by filling old tyres with dirt or getting rid of them and any other container in which water can settle, punching holes in tins before disposing, changing water in vases and cleaning them regularly to destroy mosquito eggs and covering large drums, barrels and tanks holding water.
Ideally, persons should spend about ten minutes each week to check their surroundings for and destroy potential mosquito breeding sites.