Dr. Ferguson Advises Commonwealth Health Ministers on Implementing Tobacco Regulations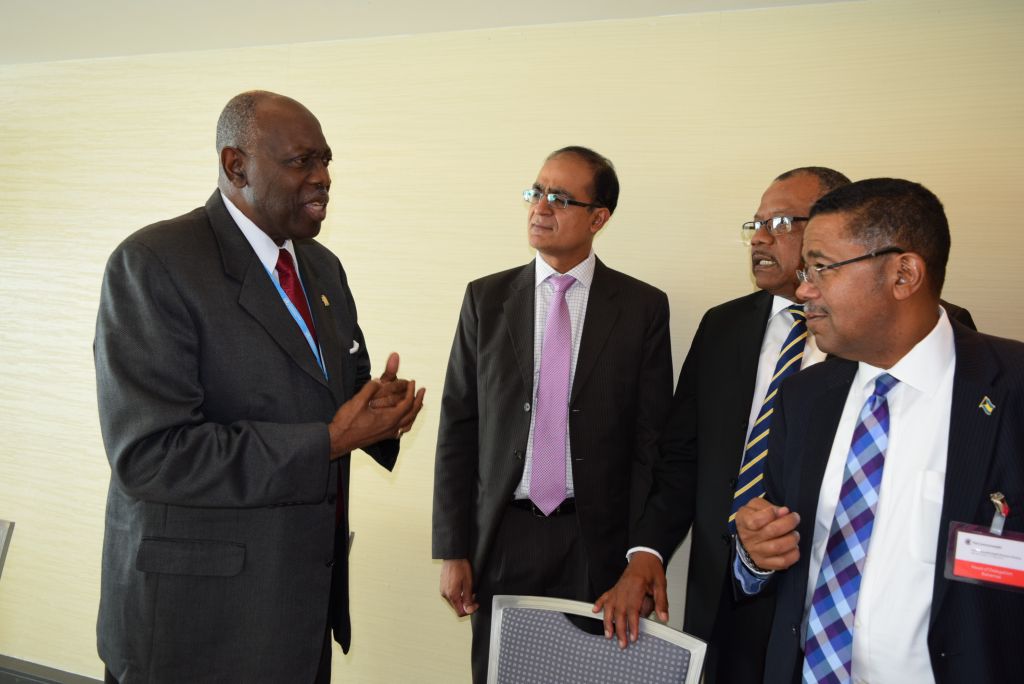 Listen Audio Clip
Minister of Health, Hon. Dr. Fenton Ferguson, has advised Ministers of Health to ensure that they lead the process and involve all stakeholders when they are implementing tobacco regulations. Dr. Ferguson was sharing his experience with implementing the Public Health (Tobacco Control) Regulations in Jamaica during a luncheon for Ministers of Health at the Commonwealth Health Ministers meeting held on May 17, 2015 in Geneva, Switzerland. He was the keynote and only speaker at the event.
"As politicians and Government representatives we have to make decisions that are right for the people even though there may be challenges. The evidence with respect to tobacco is overwhelming. There is no little tobacco that is good for you. Tobacco is a poisonous substance," he said.
He added that the issue of tobacco is not just a Health Ministry prerogative; it is cross cutting and includes sectors such as agriculture, finance, tourism, trade and foreign affairs.
Dr. Ferguson was invited by the Commonwealth Secretariat to share his experience with implementing the Public Health (Tobacco Control) Regulations and advise Health Ministers on how they can proceed with this in their own countries.
Meanwhile Dr. Ferguson says Governments must invest in prevention and health promotion and focus on the risk factors for non-communicable diseases to make any real change in the health status of their population.
He told Health Ministers and members of the Commonwealth Secretariat that a focus on risk factors for NCDs will yield a better return on investment than putting funds mostly in curative interventions. He said cancer is a leading NCD affecting the Region and tobacco exposure is a major cause of cancer.
"Seventy percent of adults are dying from NCDs; twenty percent of that is cancer. We cannot just be investing in curative actions. We have to in a significant way look at prevention and focus on healthy lifestyles. Eighty percent of NCDs are lifestyle related and so to get a better return on every dollar the risk factors must be the focus," he said.
The risk factors for NCDs are tobacco exposure, excessive use of alcohol, physical inactivity and unhealthy diet.
Dr. Ferguson is in Geneva, Switzerland as Head of Delegation to attend the World Health Assembly from May 18-23, 2015 and the Commonwealth Health Ministers Meeting which concluded on May 17, 2015.
Contact:
Stephanie Shaw Smith/Sharon Jones
Public Relations & Communication Unit