Empathy, partnership, data: Essential for effective crisis management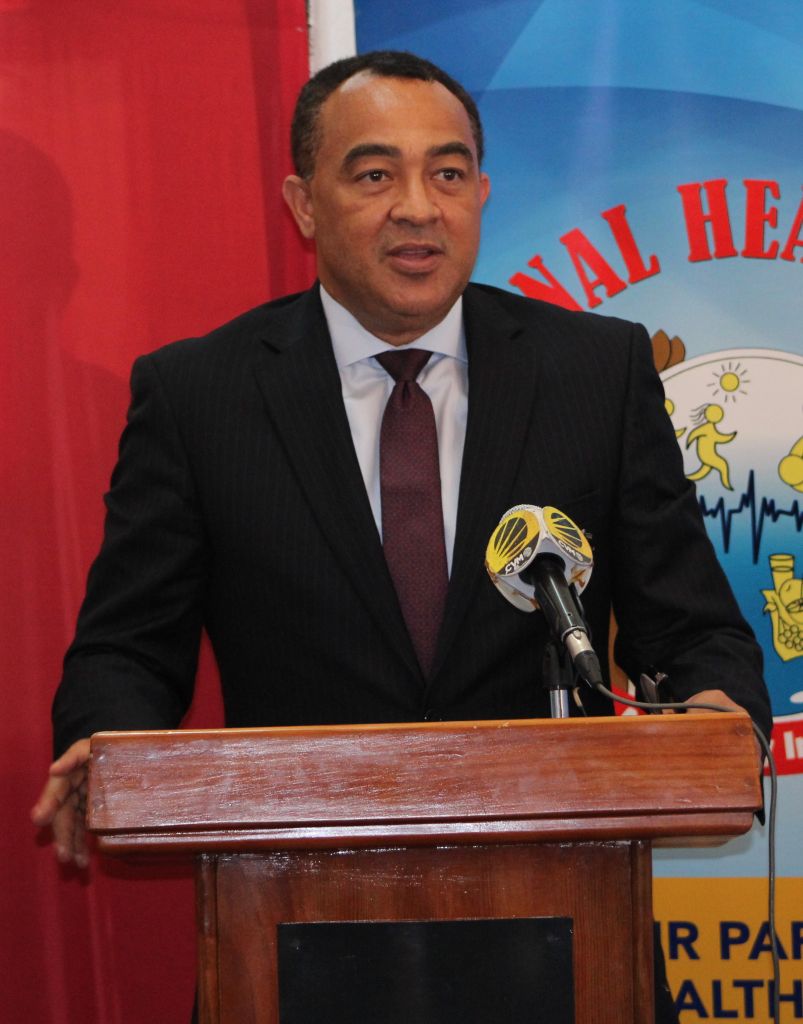 Since declaring the dengue outbreak on January 3, I have interacted with hundreds of Jamaicans, all of whom are anxious over the disease while being bombarded with news of an increasing number of cases, including the deaths of some of our children. I understand and empathise with that anxiety and am, in fact, not immune to it myself.
It is against this background that I wish to assure all Jamaicans that the Ministry of Health is doing all that is within its power to usher the country through this outbreak even as we urge your cooperation and support in our efforts.
Public health crisis situations, such as we are currently experiencing, are difficult to handle, requiring measured and deliberate decision-making to ensure timely interventions that work. The success of those interventions is, however, determined, in large part, by the public response.
In line with the 2016 Integrated Management Strategy for Dengue Prevention and Control in the Americas, developed by the Pan-American Health Organisation (PAHO) in collaboration with member countries including Jamaica – the Ministry has been tackling the disease through six components: laboratory, social communication, epidemiology, integrated vector management, environmental, as well as patient care.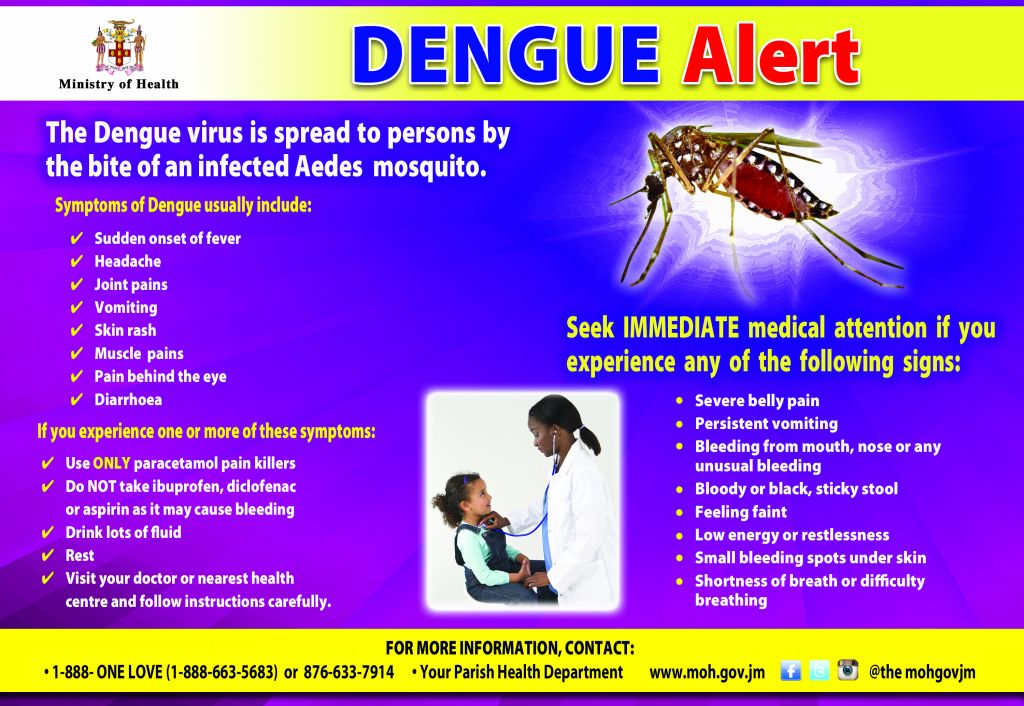 EARLY INTERVENTIONS
For many months now, the Ministry has acted out of an abundance of caution, following the guidelines – in the wake of the Caribbean Public Health Agency's (CARPHA's) warning for the region to brace for a likely dengue outbreak – while tracking the cases.
May 2018 – Launched the annual Vector Control Programme, including the training of existing and new personnel to undertake public education at the community level and destroy mosquito breeding sites, ahead of the rainy season in June.
June 2018 – Commenced the Enhanced Vector Control programme, including the start of recruitment of 1,000 temporary workers, boosting public education at the community level and destroying mosquito breeding sites.
July 2018 – Fully rolled out Enhanced Vector Control programme, including increased fogging and treatment of mosquito breeding sites; and extension of MOH/USAID ZAP programme to July 2019.
August 2018 – Started ad campaign for vector control.
September 2018 – Quarterly Press Briefing.
December 2018 – Hosted press conference on dengue.
December 2018 – Announced extended hours at several health centres.
On January 3 (2019), we declared a Dengue Outbreak when the numbers of suspected cases passed the epidemic threshold. Also on January 3, the International Health Regulations Unit of the PAHO/World Health Organisation and the Chair of the National Disaster Council were notified and there was full activation of the Health Emergency Operations Centre (EOC) to coordinate and report on activities in response to increasing dengue cases.
In keeping with the oubreak response, there is further enhancment of surveillance through the integrated surveillance programme (sentinel sites, laboratory, vector-breeding hot spots) and the Ministry has continued efforts to bolster triage and management at the primary and secondary care levels, with:
Clinical staff re-sensitised to the management of dengue.
Emergency departments at hospitals supported by increased clinical and administrative staff; and the
Sensitisation of all doctors, private and public.
This is especially important since, despite its complexity as a disease, dengue can be relatively easy to treat and with little expense. However, as the PAHO guidelines tell us, "the key is early detection and a clear understanding of the clinical problems that may arise during the different phases of the disease".
The Ministry has since early December been increasing available hospital beds by providing the support to open unused wards at St. Joseph's and National Chest Hospital, in addition to the extended opening hours at various health facilities.
Blood inventory at the National Blood Transfusion Services is being monitored daily and laboratory testing is provided through support from CARPHA and the University Hospital of the West Indies. Further, the Pan-American Health Organisation is developing the capacity at the National Public Health Laboratory to carry out testing. The Ministry is also finalising framework agreements to enhance laboratory capacity.
Still, much has been made of the length of time it took to declare the outbreak and I feel the need to bring some clarity to the issue. An outbreak is an increase in incidence above what is usual at that time. All reports for a specific time period takes up to two weeks after the time to come in.
On January 3 (2019), we were still receiving reports for December and this was the first time for 2018, that the numbers of cases went above the epidemic threshold for a month. In the management of an outbreak, verification and investigation are carried out at the same time as prevention and control measures.
In Jamaica, the Public Health Act gives the Minister extraordinary powers once a significant public health threat is detected and reported to him/her. During a public health crisis, the Minister is empowered to take such actions as may prove uncomfortable and/or inconvenient to a variety of stakeholders and have potentially far-reaching implications for critical sectors, including tourism.
Section 16(1) of the Public Health Act tells us that in such an event, "the Minister may, by order, direct the enforcement of any measures recommended by the Central Health Committee or by a Local Board, as the case may be, or any other measures that he thinks expedient for removing or otherwise guarding against any such condition and the probable consequences thereof, or for preventing or mitigating as far as possible, any such disease".
Further, "Any order made under this section may extend to the whole island or to such part thereof or to such particular places as may be specified therein" and "any person who contravenes the provisions of any order made under this section shall be guilty of an offence under this Act".
Among other things, new and/or additional financial and human resources have to be reallocated and redeployed and travel notices issued even as local communities are mobilised. Other programmes also have to be put on hold to facilitate response activities. In a sensitive area like public health, where shifting of resources can have a significant impact, one has to act responsibly and, therefore, declaring an outbreak needs to be supported by the data, in line with international best practice.
The Ministry welcomes feedback from all stakeholders and is open to new ideas on how to better serve the public health interest. If we work together, I have no doubt that despite the challenges, we can overcome.
Minister of Health,
Dr. the Hon. Christopher Tufton, M.P.