More Emphasis to be Placed on Pregnant Women as Part of Phase Two of the Zika Virus Response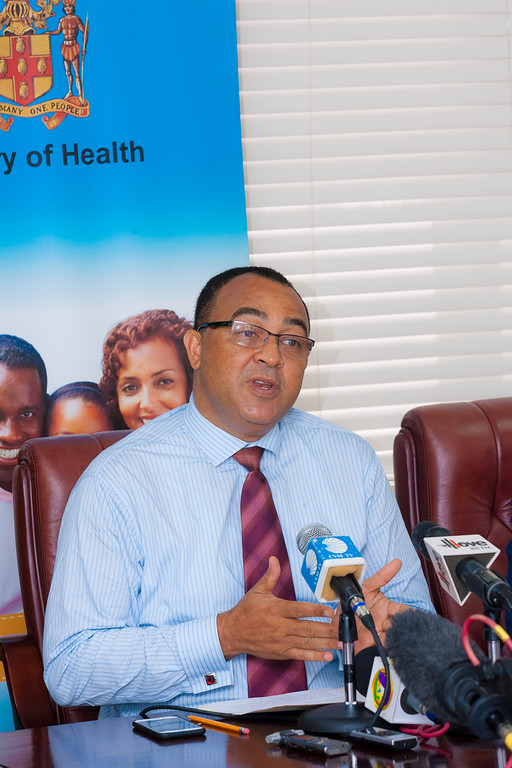 Listen Audio Clip
Minister of Health, Dr. Christopher Tufton signaled that as the ministry moves into the second phase of the fight against the zika virus more emphasis will be placed on pregnant women and their partners.  To date, there are sixteen (16) positive cases of Zika virus, two of which are pregnant women who will be continuously monitored. So far, there is no confirmed case of Microcephaly or Guillain-Barre Syndrome linked to Zika virus.  All confirmed cases of the zika virus have fully recovered.
Minister Tufton was speaking at the zika press briefing held on June 2, 2016, at the Ministry of Health, 10-16 Grenada Way, Kingston 5
"As you know, the unborn child is at high risk of developing microcephaly once the woman has been infected with Zika virus while pregnant and as part of the second phase response to zika we will be placing more emphasis on pregnant women, their partners and those who develop severe disease such as Guillain-Barre Syndrome", he said.
The unborn child is at high risk of developing complications especially if the pregnant woman is infected early in the pregnancy. Children under five years old, the elderly and persons with chronic non-communicable diseases are at high risk of developing severe symptoms as a result of zika virus infection.
Minister Tufton also cautioned persons who are experiencing symptoms that could be zika, including fever, rash and red eyes and later develop weakness of the limbs, as well as shortness of breath to visit the doctor or health facility immediately.
"We are aware of reports of clusters of persons with rash that is suspected to be zika and we estimate that this number of confirmed cases is just a small portion of what is actually the reality, therefore, I want to caution persons that if you had symptoms including fever, rash and red eyes that could be zika and later develop weakness of the limbs, as well as shortness of breath to visit the doctor or hospital immediately", he said.
Phase two of the zika virus response is based on the continued monitoring and tracking of the challenges faced and the need to start projecting a more intense and targeted approach to the fight against zika which is in keeping with the monitoring and the assessment of the zika virus not only in Jamaica but by international reporting agencies such as the Pan American Health Organization.
As part of the response activities will include the donation of 20,000 bed nets to pregnant women who visit the antenatal Clinics over the next 6 months, additional monitoring at the community level throughout pregnancies including providing educational support and enhanced public education through various media and fora including town hall meetings in high risk and other communities among other strategies.
The bed nets are being provided by Food For the Poor.