Over 1000 Health Care Workers to be Trained in Improving Delivery of Maternal & Child Health Services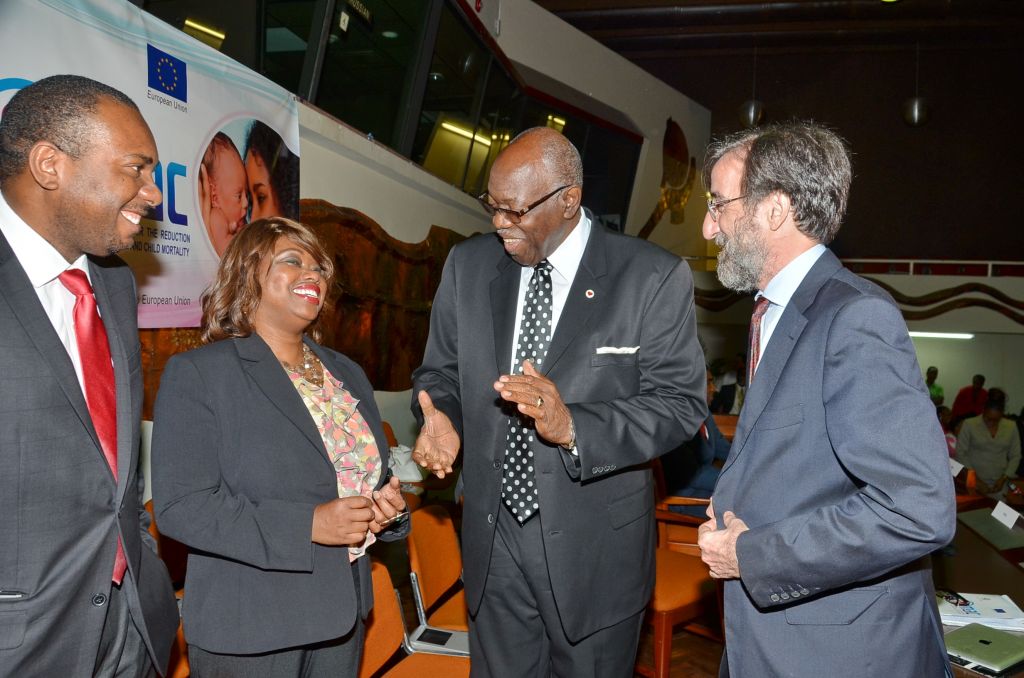 Twelve hundred (1200) Health Care Workers from across the island will participate in Maternal and Child Health training facilitated by the European Union (EU) funded Programme for the Reduction of Maternal and Child Mortality (PROMAC) and the international organization, Footprints Foundation.  Minister of Health, Dr. Fenton Ferguson said that the investments being made by EU and Footprints Foundation are "a direct effort on their part to help us achieve Millennium Development Goal (MDG) 4 which addresses the reduction of child mortality and Millennium Development Goal (MDG) 5 which speaks to improving maternal health."
Dr. Ferguson was speaking at the signing ceremony of a Memorandum of Understanding (MOU) between the Ministry of Health and the Footprints Foundation which was held at the Jamaica Conference Centre on Tuesday, May 26, 2015. "Footprints Foundation will assist in providing the technical expertise needed for training that aims to improve technical capacity of both primary and secondary care health teams to ensure quality maternal and child care," outlined the Minister. "They will also seek to provide support in the provision of equipment such as phototherapy lamps and infant radiant warmers to improve the capacity of Type C hospitals in the resuscitation and management of newborns." Type C hospitals provide basic secondary care services.
Under PROMAC, which is funded to the tune of €22 million (twenty two million Euros), the Ministry of Health will do the following:
Improve newborn care and emergency obstetric care in six hospitals – one in each of the 4 regions  in addition to two specialist hospitals, the Victoria Jubilee Hospital and the Bustamante Hospital for Children
Improve the quality of Primary Health Care services both in building the capacity of personnel as well as facilities   in addressing high risk pregnancies
Collaborate with the University of West Indies in research and the training of  health workers
Strengthen institutional capacity for successful implementation of the overall programme
Engage the support of civil society and the promotion of health seeking behavior.
The training which began after the signing of the MOU will take place over a four day period and aims to improve the technical capacity of public health nurses, midwives, doctors and other healthcare workers in delivering maternal and child health care services in primary health.