Introduction
Jamaica is faced with a double burden of under and over-nutrition. There is a high prevalence of iron deficiency and low intake of fruits and vegetables. This is coupled with an increasingly high level of obesity and high fat/oil and sodium/salt intakes, leading to an increasing prevalence of chronic non-communicable diseases such as hypertension, diabetes, cardiovascular diseases and strokes. To combat this, Jamaica has developed a set of Food Based Dietary Guidelines aimed at promoting healthy behaviours and practices that will help the population aged two years and older to make healthy food choices. The development process involved a number of consultations with stakeholders including the public. This followed a ten step process incorporating feedback from household trials and focus group discussions.
The Ministry of Health is grateful to the Task force that guided the development of Food Based Dietary Guidelines for Jamaica. Membership of the Task Force comprised the Pan American Health Organization, National Health Fund, Planning Institute of Jamaica, Ministry of Agriculture and Fisheries, Rural Agricultural Development Authority, Jamaica Agricultural Society, Tropical Medicine Research Institute (now Caribbean Institute of Health Research), University of Technology, Jamaica Association of Professionals in Nutrition and Dietetics, National Consumers' League, Ministry of Education, Youth and Information, Early Childhood Commission, Graphic Artists, Consultant, the four Regional Health Authorities, and the Technical Team within the Ministry of Health and Wellness ( Health Promotion and Education, Chronic Disease, Public Relations, Epidemiological Research and Data Analysis Units) led by the Nutrition Unit.
The Food Based Dietary Guidelines For Jamaica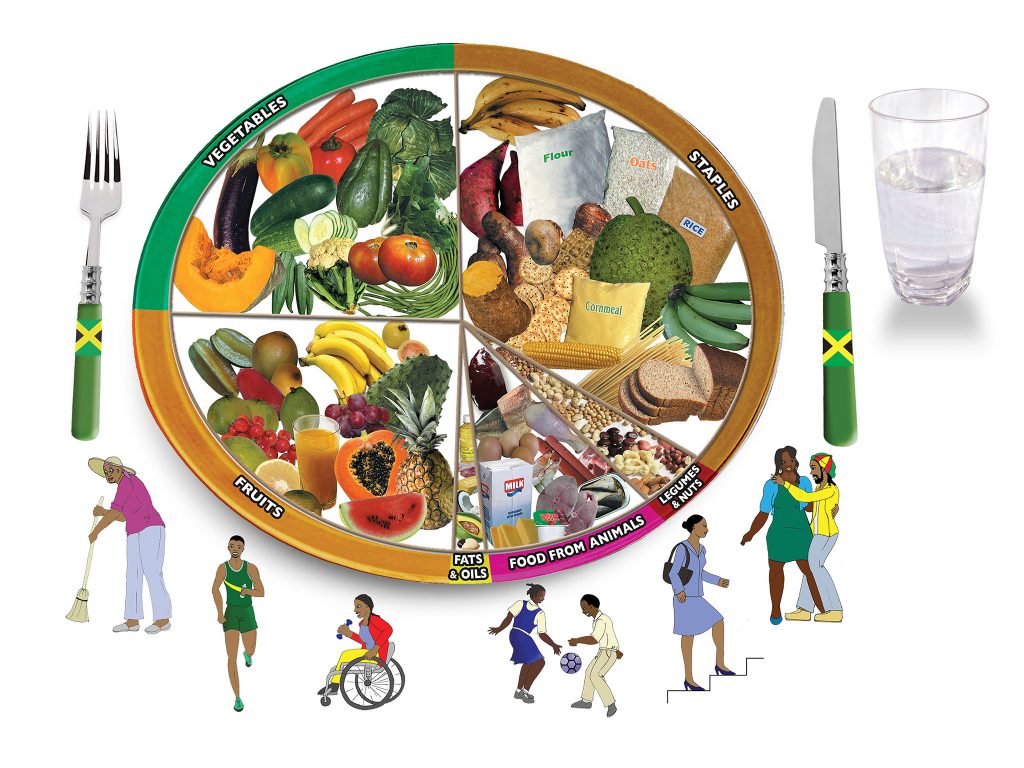 The graphic representation of the Food Based Dietary Guidelines is a plate depicting the recommended proportions of the Caribbean Six Food Groups. The guidelines promote variety, adequacy, balance and control. The food groups include staples such as corn, tubers, rice and plantain; vegetables; fruits; fats and oils including fat-rich foods such as avocado and coconut; food from animals including poultry, fish, meat, eggs and dairy products; and legumes and nuts including peas, beans and seeds. The size of each food group segment reflects the volume the group should contribute to the total daily diet. In addition, the food guide promotes the drinking of water and participation in physical activity, as depicted by Jamaicans of different ages, sexes and abilities.
Products whose intake are recommended to be reduced, such as salty and sugary foods and highly-processed products, are not depicted in the food guide.
Brochures