Public Urged to Practice Proper Hygiene to Prevent Spread of Hand, Food and Mouth Disease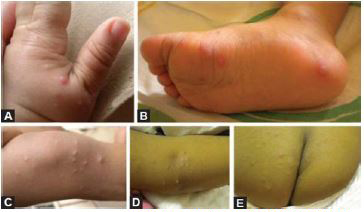 The South East Regional Health Authority (SERHA) is urging the public to practice proper hygiene, such as washing hands with soap and water, to reduce the likelihood of the spread of Hand Food and Mouth Disease.
The public is also being encouraged to clean and disinfect frequently touched surfaces and soiled items, including toys. Close contact such as kissing, hugging, or sharing eating utensils or cups with people with Hand, Foot, and Mouth Disease should be avoided.
The Region continues to monitor cases of Hand, Foot and Mouth Disease which have been confirmed in 27 schools; six in Kingston and St. Andrew; seven in St. Thomas; and 14 in St. Catherine. Seven additional schools are being investigated in St. Catherine.
The Health Departments are still working assiduously with the schools to prevent any further spread of the disease. This includes providing guidance for the disinfection process as well as continued active surveillance of schools in the parishes.
Symptoms and Signs:
Fever and general malaise (poor appetite aches and pains, e.tc). for one to two days`
The fever is usually followed by small red spots on the hands, feet, and in the mouth.
The spots develop into blisters.
The blisters may develop on the gums, inner cheeks, and tongue and patients may complain of mouth pain and a sore throat.
These children tend to drool and avoid swallowing and may refuse to drink or eat because of the discomfort.
Very young infants may even become dehydrated due to the refusal to drink.
Parents are urged to seek immediate medical attention for children displaying symptoms of the disease and to keep them at home for at least seven days. Children with the disease should also be kept hydrated.
All cases of Hand, Foot and Mouth Disease should be reported to the Medical Officer of Health at the Parish Health Department.