World No Tobacco Day 2020 – COVID is no joke, it gets worse with smoke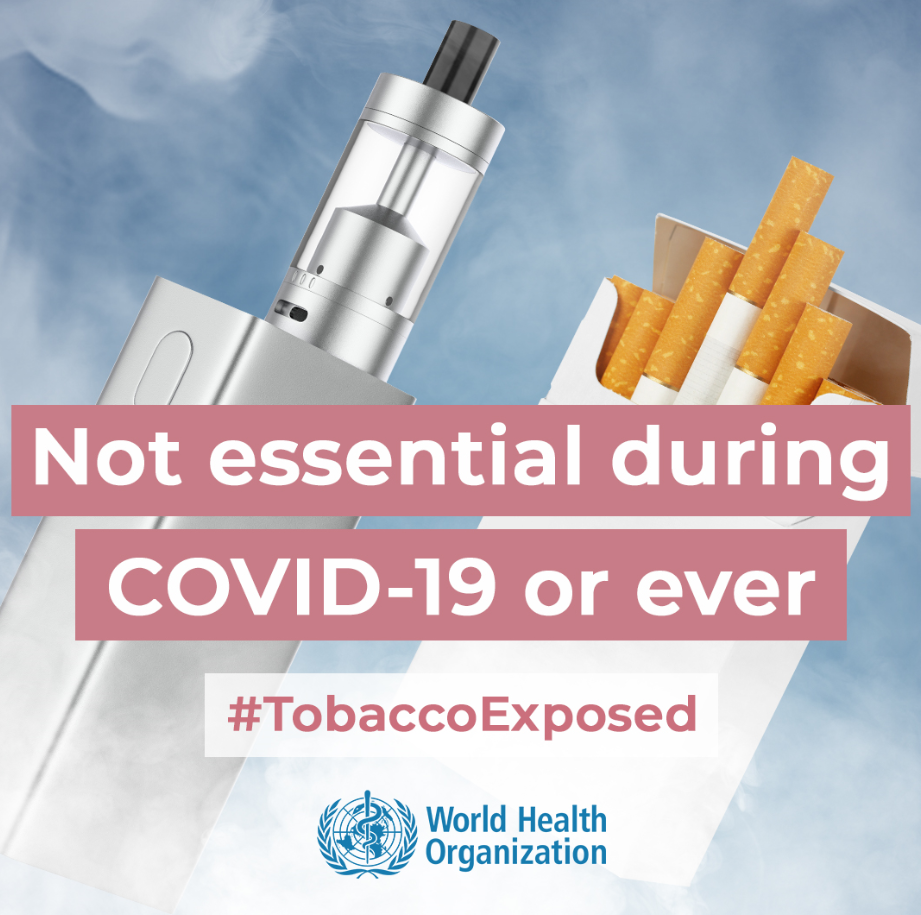 Every year on 31 May we celebrate World No Tobacco Day to draw global attention to the tobacco epidemic and the preventable death and disease it causes. This year, the national theme is COVID is no joke, it gets worse with smoke.
Led by the Jamaica Coalition for Tobacco Control (JCTC), and supported by the Ministry of Health and Wellness (MOHW), National Council on Drug Abuse (NCDA), Jamaica Cancer Society and the Pan American Health Organization (PAHO), World No Tobacco Day in Jamaica provides an opportunity to highlight the impact of tobacco use during the coronavirus (COVID-19) pandemic.
Tobacco is one of the greatest public health threats to humankind, killing more than eight million people a year globally. Combined with COVID-19, smoking is even more lethal. Like COVID-19, tobacco smoke attacks the lungs and reduces its function. Tobacco smoke also compromises the immune system of a smoker, making it harder to fight off the deadly virus, placing smokers at higher risk of severe complications.
"Before COVID-19, we knew smoking led to a premature death in 20 years. Now with this pandemic, if you are a smoker and you contract the virus, the effects are magnified, increasing the odds of developing severe complications by three-fold," said Dr. Nicola Skyers, Acting Director of Noncommunicable Diseases in the Ministry of Health and Wellness.
JCTC Chairman, Dr. Aggrey Irons, said the threat to young people was of particular concern.
"The tobacco industry spends US$8 billion every year on slick marketing campaigns and sponsorship deals to appeal to young people," said Dr. Irons, a consultant psychiatrist. "Our children do not stand a chance against the tobacco industry's tactics, such as promoting flavoured nicotine products and e-cigarettes as healthy alternatives, which are just some of the tobacco industry's deadly tricks."
The tobacco industry's campaign to target children is highly effective. "In Jamaica, over 21% of children aged 13-15 had tried a cigarette before their 10th birthday" said Michael Tucker, Executive Director of the NCDA.
"It is up to us to empower our youth by helping them know and understand the health harms of tobacco and nicotine, as well as the deceptive tactics of the tobacco industry, " added Mr. Tucker. "Preventing youth from tobacco and nicotine use is even more imperative now, as we wage war against the COVID-19."
PAHO recommends that all individuals who smoke quit now. "We should use the pandemic as a wake-up call," said PAHO Country Representative for Jamaica, Dr. Bernadette Theodore-Gandi.
"Now is the time to quit!" Dr. Theodore-Gandi implored.
This year marks the 15th anniversary of Jamaica's accession in 2005 to World Health Organization's Framework Convention on Tobacco Control – the only global public health treaty. Raising awareness of the impact of tobacco use on COVID-19 will help to protect our country's young people from the health harms of tobacco and nicotine use and may prevent them from ever using these highly addictive substances. The only way for the tobacco industry to replenish its dwindling and dying population of tobacco users is to recruit newer generations of smokers. According to the 2017 Global Youth Tobacco Survey, more than 11% of Jamaican youth currently smoke cigarettes or e-cigarettes. Those who need help to quit tobacco use should contact the National Council on Drug Abuse at 876-564-HELP (4357).