Health Centres Extended Opening Hours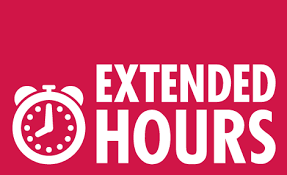 It is that time of year when hospital visits will increase due to the flu, dengue and other seasonal illnesses. This normally leads to longer waiting times and some overcrowding, particularly in accident and emergency departments. We ask for patience and understanding as our doctors and nurses work to cope with these seasonal illnesses.
You are encouraged to use your community health centers for mild symptoms and let your doctor or nurse determine if you should visit the hospital for further care. For your convenience, there are extended opening hours up to 10pm in a number of Health centers across the country.
See below the health centres with extended opening hours.
HEALTH CENTRES EXTENDED OPENING HOURS
PARISH
HEALTH CENTRE
DAY
TIME
Clarendon
May Pen Health Centre
Mondays – Fridays
8:30 am – 8:00 pm
Clarendon
Spaulding Health Centre
Mondays – Thursdays
8:30 am – 8:00 pm
Kingston and St. Andrew
Duhaney Park Health Centre
Mondays and Wednesdays
Saturdays
8:00 am – 8:00 pm
8:00 am – 12 noon
Kingston and St. Andrew
Stony Hill Health Centre
Tuesdays and Wednesdays
8:00 am – 8:00 pm
Kingston and St. Andrew
Slipen Road Comprehensive Centre
Mondays – Fridays
8:00 am – 8:00 pm
Kingston and St. Andrew
Olympic Gardens Health Centre
Mondays – Fridays
8:00 am – 8:00 pm
Kingston and St. Andrew
Glen Vincent Health Centre
Mondays – Fridays
8:00 am – 8:00 pm
Kingston and St. Andrew
Nannyville Health Centre
Mondays – Fridays
8:00 am – 4:00 pm
Manchester
Manchester Comprehensive
Mondays – Thursdays
Fridays
8:30 am – 9:00 pm
8:30 am – 8:00 pm
St. Ann
St. Ann's Bay Health Centre
Mondays – Fridays
8:30 am – 8:00 pm
St. Catherine
St. Jago Park Health Centre
Mondays – Fridays
8:00 am – 8:00 pm
St. Catherine
Greater Portmore Health Centre
Mondays – Fridays
8:00 am – 8:00 pm
St. Elizabeth
Black River Health Centre
Mondays, Tuesdays, Thursdays
8:30 am – 8:30 pm
St. Elizabeth
Santa Cruz Health Centre
Mondays, Tuesdays, Thursdays
8:30 am – 8:30 pm
St. James
Montego Bay Type 5
Mondays to Thursdays
Fridays
Saturdays to Sundays
7:00 am – 10:00 pm
7:00 am – 9:00 pm
10:00 am – 6:00 pm
St. Mary
Oracabessa Health Centre
Tuesdays and Wednesdays
8:30 am – 8:00 pm
St. Mary
Gayle Health Centre
Mondays and Wednesdays
8:30 am – 8:00 pm
St. Mary
Highgate Health Centre
Wednesdays
8:30 am – 8:00 pm
St. Mary
Annotto Bay Health Centre
Mondays
8:30 am – 8:00 pm